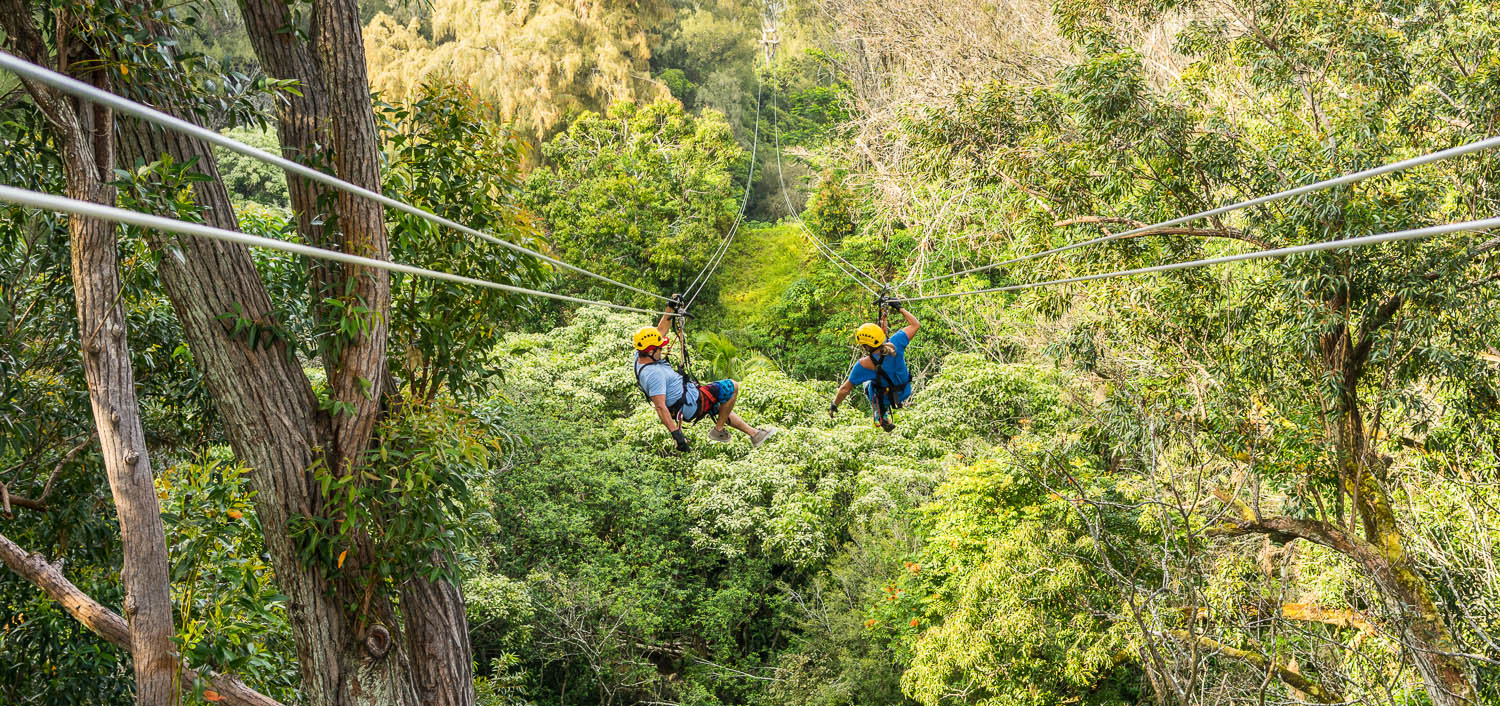 What are your COVID Safety protocols?
What happens if I decide I don't want to zip anymore? How do I get down?
Zipline tours are adventures, by definition unusual, exciting, and somewhat daring. Kohala Zipline on the Big Island of Hawaii accommodates participants who want to try a canopy tour only to find out that it's not for them. You'll have a chance to explore your comfort zone during your first two tree-based zips, after which you have an option to exit the course at Platform Three. While it is technically possible to exit at any time during the Kohala Canopy Tour, doing so may delay fellow participants in your and even in subsequent groups. Keep in mind, your safety and comfort are top priority for our guides. Certified to the rigorous standards of the Association for Challenge Course Technologies (ACCT), they understand fear, and they will stand by you all the way as you jump and soar to your final triumphant rappel.
What if I have never zipped before?
The Kohala Canopy Tour on the Big Island of Hawaii appeals to experienced zip-line followers and first-time explorers alike. If you are new to ziplines, please know that your safety and comfort always come first and that we have one of the best guide to guest ratios in Hawaii (1 guide for every 4 guests). Your first zip at the beginning of the tour is a short practice run, with as sole purpose education: Our guides provide detailed, hands-on instructions and teach you how to adjust your speed and orientation. As you glide from tree to tree during the course itself, guides are available to help you at each platform, a strategy that's part of our redundant safety systems. There is time on the platforms for the guides to answer all your questions, from basic know-how to place-based inquiry and technical intricacy.
The rest of my family is zipping, but I am not interested. Can I watch them?
Right now, we don't have an observer option available, but hope to have that available soon.
What are the restrictions?
Kohala Zipline is a full-participation course and riders control their speed and orientation.  Participants should be able to reach above their heads to apply friction to the cable.  Riders must weigh at least 70 lbs and the recomended maximum is 270 lbs. We do weigh-ins prior to zipping.
This tour is not for guests with back or neck problems, expectant mothers, or those with an extreme fear of heights. Guests with the following conditions should consult their physician prior to zipping: heart disease or cardiac conditions, asthma, diabetes, insulin dependency, severe allergies, or any condition that could require immediate medical attention. Participants should be in relatively good health, with no existing or previous injuries that could be aggravated by moderate physical activity.
How long is the tour?
You'll be on our course for around 2 hours. Half-way through the course and following a short hike, we break briefly at a scenic spot for a water break. The total length of your zip-line experience is around 3 hours, check-in to check-out. Keep in mind the experience may be longer or shorter depending on how many guests are on the experience and what their comfort level is. Kohala Zipline Station is situated on the Big Island, just past the town of Hawi between mile marker 22 and 23 in North Kohala, about a 50 minute drive from Waikoloa Beach Resort and about 1 hour plus 15 minutes from Kailua-Kona..
Is there any hiking involved?
We're in the trees most of the time. We do a short walk between lines 2 and 3 and a short climb up about 25 stairs between lines 5 and 6. The first one is less than 50 yards, the second is about 300 yards.  At the end of the hike, we'll have an opportunity to use the restroom, and enjoy a light snack and water.
Is there elevation gain?
Both hikes do have short ascents and descents.  The first hike elevation loss is approxmately 40', the second hike elevation gain is approximately 90'.
Is ziplining difficult?
Kohala Zipline on the Big Island of Hawaii doesn't require intense physical exertion, although the course includes a short uphill trail hike and two rappels down short lengths. Our canopy tour guides will clip you securely into your harness, provide a detailed safety briefing, and give clear hands-on instructions throughout the tour. You'll even learn how to adjust the speed and orientation of your ride, so that you can actively control your experience as you zip from tree to tree. Your first zip is a practice run, allowing you to apply the instructions and gain a sense of confidence, balance, security, and, above all, fun. By the third tree platform, inexperienced zipliners begin to feel a sense of ease. The course may be challenging, however, if you have a fear of heights.
What should I wear on the zip line tour?
For your safety, wear sturdy, closed-toe walking shoes. Tennis shoes or hiking shoes work best. Kohala Zipline does not allow Croc-like shoes, water shoes like Teva, flip-flops, or sandals. We recommend shorts, capris, or long pants and sleeved shirts or tops. Tank tops are not recommended due to the harness you'll be wearing. Please bring a light-weight long-sleeve shirt, a light sweatshirt, or jacket, since we are high up in a forest, where the weather can change quickly. If you have long hair, tie it in a pony tail, don't wear loose or dangling jewelry, and secure your sunglasses with a strap. We'll provide you with the harness, as well as a helmet, and gloves. We'll also have drinking water and a light snack available halfway throughout the course.
Are all zip line tours the same?
On the Big Island, in Hawaii, or anywhere else, all zip line tours are about flying along cables. Participants soar over a natural terrain by gliding from platform to platform. Unique among these courses, the Zipline Canopy Tour of Kohala Zipline features platforms that are elevated and built directly into trees: For a few hours your home is high up in the forest. Even when you cross the suspension sky bridges, you remain high above the ground. The twin cables from which you are suspended on our course are nylon-coated, which other ziplines in Hawaii do not offer yet: Kohala Zipline's WhisperLine coating reduces the noise of gliding by over 50 percent, so you can hear the forest itself. The twin system provides the safety of redundancy. Your adventure is located high up in the forested lands of a 6,000-acre private property, around a steep gulch with stunning views. This otherwise inaccessible area in the ahupuaa of Halawa is filled with such cultural and environmental significance that it has affected the course of Hawaii history.
Will we do other outdoor activities besides ziplining?
You'll be in the trees most of the time, and zipping from platform to platform is at the heart of Kohala Canopy Tour. The zip line tour also features other activities that are integral to your experience. We'll transport you to and from our Big Island site in a Pinzgauer, an open-air, 6 wheel-drive all-terrain vehicle originally designed for the Swiss military. This 20-minute trek passes through Kapaau, a small plantation town and home to the statue of King Kamehameha, then climbs off-road through macadamia nut orchards with flocks of wild turkeys and open ranching lands with sweeping ocean views. Within the zip line course, you'll cross several sky bridges arching high above a gulch, and you'll hike one short slope to a resting spot. Finally, you'll get to test your skills at rappelling as well, but rest assured that our guides will assist you at all times.
How safe are ziplines?
At Kohala Zipline on the Big Island of Hawaii, participant safety comes first. Our elevated platforms are engineered and tested to exceed twice the maximum limit on working loads. They are built into trees with strict structural integrity. The course incorporates redundant safety systems in design elements and daily operations. Its Dual WhisperLines℠ are double lines constructed of aircraft-grade nylon-coated galvanized steel cables. The tree-based platforms and platform trees are proof-tested and reinforced, while all attachments here are also redundant.
Kohala Zipline complies with or exceeds all standards of the Association for Challenge Course Technologies (ACCT). Our canopy guides are trained and certified to ACCT's rigorous standards, as well as in First Aid and CPR.
Should I provide a tip or gratuity?
In considering a gratuity for your Zipline Guides, please consider the following: did you feel welcomed, was the tour operated safely, did the guides provide for your care and comfort, was the tour enjoyable, educational, and engaging?
What is a zipline?
While ziplines take many forms, our zipline is a tree-based aerial trekking course. Safely clipped in harnesses, participants glide from platform to platform by way of free-moving pulleys suspended on cables high above the ground. The course design is such that natural gravity acts as the propelling force.
The Kohala Zipline Kohala Canopy Tour on the Big Island of Hawaii is unique in that it's almost entirely tree-based. Our elevated platforms are built directly into the trees. Our suspension bridges arch high above a streambed. You are up in the forest at all times, so you can fully experience a serene Hawaiian environment. How do we get you out of the trees? The course ends with our staff teaching you to rappel!
For the Zip and Dip, what is the water temperature in the pool we swim in?
Water temperature varies by season and the amount of rainfall. Temperatures range between 65 and 75 degrees F.